Avayler's COO, Chris McShane, Recognised Among World's Top 50 Digital Retail Leaders

By Avayler News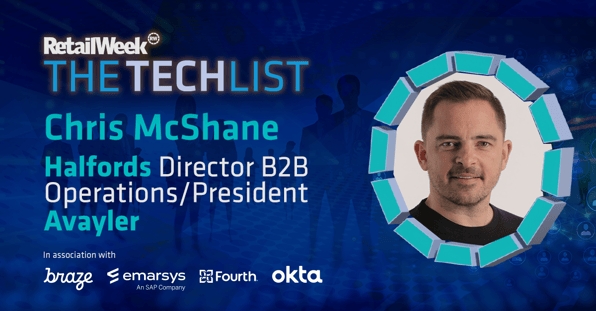 The Tech List, Retail Week's definitive index of the people powering innovation, is published today. Formerly known as The Tech 100, this year's annual report is a more exclusive and selective celebration of those at the helm of technological change.
With greater diversity than ever before, The Tech List features leaders from the UK, US, Europe, Japan, China and Israel, and has increased female representation
Individuals are celebrated across five groups: start-ups and disruptors; collaborators; retailers and brands; tech titans; and investors
The list showcases innovations happening across retail stores, supply chain, sustainability, personalisation, loyalty, social commerce and more
UK, October 25, 2022: Avayler President and Chief Operating Officer Chris McShane has been unveiled among global digital commerce's most influential individuals in The Tech List, the annual index published today by leading business intelligence site Retail Week.
The Tech List replaces The Tech 100 to exclusively celebrate the work of 50 – rather than 100 – digital retail leaders achieving demonstrable success by steering technological change.
The index has been determined with recommendations from industry specialists, including NBK Retail Founder and Retail Analyst Natalie Berg, WARC Director of Insights Aditya Kishore, and True Executive Chair and Co-founder Matt Truman, alongside Retail Week's team of expert journalists.
Leaders behind start-ups and disruptors, retailers and brands, investors, collaborators (third parties working with industry) and tech titans are celebrated for driving innovation in key areas such as stores, personalisation, payments, supply chain, social commerce and sustainability.
The Tech List is an essential read for retailers and brands looking for insights on the hottest digital trends, who to partner with and where to prioritise investment.
Produced in association with Braze, Emarsys, Fourth and Okta, The Tech List has greater female representation than ever before (36%) – compared with 32% last year – with Alibaba Group President of Core Domestic Commerce Trudy Dai, Olio Co-founders Tessa Clarke and Saasha Celestial-One, and AiFi Co-founder Ying Zheng among those celebrated.
It also boasts greater global diversity with individuals profiled from across the UK, US, Europe, Japan, China and Israel, and is not limited to tech job titles, with chief operations officers, e-commerce directors, founders and chief executives featured in the index.
Retail Week Senior Commercial Content Editor Megan Dunsby, who oversees The Tech List, said: "The Tech List serves as the ultimate showcase of digital leaders that the industry should be working with, taking inspiration from and investing in.
"Despite the challenging market conditions in which global retail finds itself, these digital leaders highlight the real progress being made to stay ahead of competitors, improve customer experiences, and overcome the various cost pressures and supply chain disruption beating down on the industry.
"It's interesting to see the contrast between those leaders – typically those with bigger budgets – making headway with game-changing technologies such as drones, robotics and the metaverse, and those making necessity-driven investments to make their businesses simply run more efficiently."
—---------------------------------------------------------------------------------------------------
NOTES FOR EDITORS:
View The Tech List in full here. Please use this link when promoting or referencing The Tech List. For social media please use the hashtag #RWTechList in any activity.
The Tech List is independent editorial content produced by Retail Week and decided by Retail Week's team of journalists. It has not been shown to sponsors Braze, Emarsys, Fourth or Okta for approval prior to publication. All profile information is correct as of October 25, 2022.
For editorial enquiries or more information, please contact Megan Dunsby – megan.dunsby@retail-week.com.