Helping you create a seamless
journey for your customers
Introducing the only Customer-Centric
Field Service Solution

Our Products
An Omni-Channel Solution to Field Service
Ensure your customer has an effortless, enjoyable experience with
your brand from discovery to order to service delivery and beyond.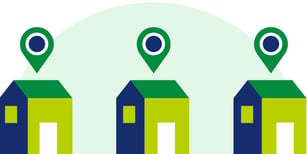 Give your customers the keys to an excellent service experience with this feature-rich end-to-end field service solution.
---
The Power of Four
Whether providing services at a physical location or out in the field, Avayler provides an end-to-end solution to delight your customer and empower your technicians.

Dynamic Pricing Engine
Give your customers the ability to book their own appointment windows while intelligently reducing your overhead and travel costs.

Dynamic Schedule Engine
Deliver the best outcomes for your customers while maximizing efficiencies with our automated scheduling, workforce and routing optimization solution.

Technician Portal
Empower your service technicians to be the face of your brand, complete jobs compliantly, and provide customers with full visibility of parts, products and pricing.

Customer Portal
Make your service offering as seamless as Amazon or Uber with a robust self-service solution that delights your users while giving you the right insight to keep customers for life.
Case Study
A 4.85 TrustPilot Score Says It All
Not only does Avayler allow Halfords to provide 70,000 services a week to customers' homes and Halfords Auto Centres across the UK, but it also keeps customers coming back for more. Learn more about how Avayler increased job productivity of its' 10,000 service technicians by over 30% and increased customer satisfaction by more than 20%…
Customer Announcement
American Tire Distributors Inc. (ATD), one of the largest independent suppliers of tires to the replacement tire market in North America and owner of leading online tire retailer Tirebuyer.com, will be using Avayler to deliver an unrivaled customer experience and enhance their service offering. Avayler's platform will underpin ATD's own operations, supplying tires to 80,000 garages across the US. ATD will also be the exclusive providers of the Avayler Mobile platform to the North American automotive market.
-30%
calls to customer support