Halfords Grows Mobile Expert Service

By Avayler News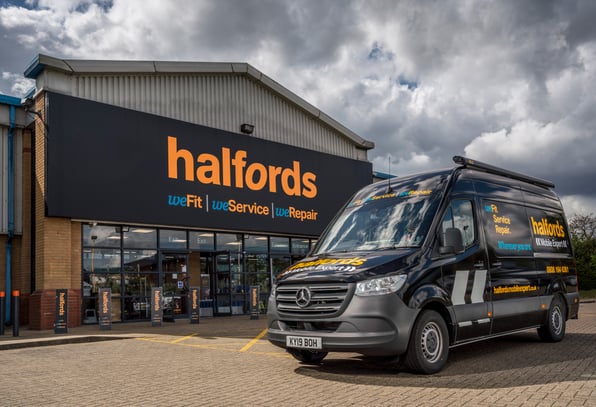 MOTORING RETAILER ROLLS OUT MOBILE SERVICES VAN ACROSS LONDON AND SOUTH EAST
Halfords today announces the growth of its Mobile Expert service, a new mobile facility that brings Halfords' range of motoring services directly to busy motorists, across London.
Following a successful trial in the West Midlands, Manchester and Surrey last year, the UK's leading retailer of motoring products and services is launching five new vans in London from 30th March onwards, which will cover the whole capital. The growth of the service means that Halfords Mobile Expert vans will cover nearly a third of UK households.
The vans offer customers 11 different motoring services including servicing, oil changes, tyres and battery replacement.
It means that Londoners will be able to book a selection of motoring services and fitting jobs online and have the Mobile Expert team arrive at their home or workplace in a matter of hours. Each of the Mobile Expert Mercedes Sprinter vans is equipped with the latest technology and diagnostic equipment to tackle the jobs that motorists are unlikely to deal with themselves.
Karl Baker, responsible for the launch of the service said: "With our new vans, we can reach nearly a third of the UK's households, bringing great convenience to wherever they are based. Drivers have always been able to go to the garage for these jobs, and now we can bring our expertise directly to them. If their battery goes flat or their windscreen wipers stop working, they can simply book online and we'll drive to them."
The service includes bigger jobs such as Interim Services and tyre changes, but also jobs like windscreen and paint chip repairs and the fitting of dash cams. Within the next two years, there are plans to roll out between 100-150 vans across the UK.
The news comes as a poll by Halfords reveals that 41 per cent of motorists don't know anything about car repairs, preferring to get their problems fixed by a professional. The survey also found that only 36 percent know how to change a headlight bulb, while only 33 per cent know how to change a car battery.
Karl Baker adds: "The demand for convenience is growing as people lead increasingly busy lives, which is why we are expanding our offer. What's more, ninety percent of customers rate our service as excellent demonstrating the great customer service our technicians provide."
Halfords now offers over 30 expert motoring services in its shops and garages in order to keep motorists cars' roadworthy. From a correctly programmed sat nav, to fitting a roofbox, Halfords has the know-how and expertise for every adventure.
For further information please visit https://www.halfordsmobileexpert.co.uk/
Mobile Expert Services include:
Supply and fitting of new car tyres with old tyres taken away
Supply and fitting of new car batteries with old ones taken away
Supply and fitting of wiper blades
Supply and permanent installation of dash cams
Full oil change
Engine oil top-up (5 litre oil supplied)
Interim service
Windscreen chip repair
Paint chip repair
Adblue refill
Antifreeze refill